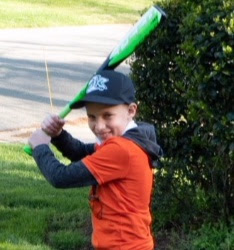 What if a baseball bat wasn't just a baseball bat? What if it was a chance to get involved in a new community and new school after your father passed away and you recently moved? What if it was an opportunity to be part of a healthy, fun sport where you could learn valuable life skills and make new friends? And what if you were too tall to use your teammates' bats? That's when a bat is more than a bat and what a new baseball bat meant to JR, one of our children in foster care who went through a terrible winter.
But baseball also means that spring is finally here after this long hard year. For the children, teenagers, and young adults that 4Montgomery's Kids serves, it means a return to school, sports, summer camp, and employment. As for JR, it may mean new beginnings and a return to a more normal way of life.
Things have been exceptionally tough for children in the foster care system. Between July 2020 and March 2021, there were almost 7,000 calls to Montgomery County's Child Welfare to report child abuse and neglect. The average number of children and youth in foster care is 435 each month. In addition, 110 children remain with their biological families but are being monitored by social workers. There is also concern that because most children have not been in school an important source of identifying children being mistreated has been missing. At the same time, young adults who are aging out of Child Welfare are unable to find jobs to cover housing and other expenses.
Thanks to our generous donors, 4MK has been able to quickly and fully respond to every request we have received this past year! From families experiencing food insecurity to students needing laptops, to young adults unable to pay rent, and, yes, to a baseball bat for JR. In the words of one of our donors, 4MK has kept "these kids in the forefront during this tragic time for our country" and it's only through your help we have been able to do it.